Relocating To the Bay Area & Silicon Valley.

Helping our clients relocate is our first priority and our service is First Class all the way!
Corporate Relocation Services
Pre-move Counseling for Sellers
Pre-visit Counseling for Buyers
Relocation information packages
Neighborhood information
School Information
Mortgage Company
Title Company Services
Temporary Housing
San Francisco Bay Area & Silicon Valley Relocation Service Specialists
Relocating and Moving to the Bay Area – Santa Clara County, CA
Destination Services
Relocating to the Bay Area or surrounding communities? Our goal is to help you shorten the house hunting process with less "down time" and fewer expenses for travel and temporary apartment or rental housing. The objective is to help you find the house you can call "home" and settle into your new environment in the shortest time and with the least inconvenience and cost.
Relocation Counseling
As experienced relocation experts, we will serve as your guide and advocate throughout the entire relocation process. We will focus on relocation and move planning, destination information, mortgage financing, house hunting and purchasing a home.
Information Services
We will provide detailed information about the Bay Area / Silicon Valley and surrounding counties, so you can quickly identify those communities that most closely match your lifestyle characteristics and financial requirements. When you arrive for your house hunting trip in the Bay Area, we will provide current market data prior to your tour of the communities that meet your requirements. We will help you find the right home and guide you through the process from the Offer to Purchase through close of escrow.
Silicon Valley Mortgage Services
We work closely with lenders that offer our clients the widest variety of mortgage programs available at competitive rates to meet each home buyer's individual needs. For example, if the spouse has not yet obtained employment, our preferred lenders can usually use his or her current income for qualification purposes.
Our lenders' pre-approval programs give you a head start on the mortgage process. This allows you to be ready for quick loan approval before a home is purchased. The result is shorter home finding trips, greater leverage in negotiating, faster closings and reduced temporary living expenses.
Move Management & Relocation Tools
We strive to provide a number of exciting extras to our home buyers and home sellers. An especially important one for you is our exclusive Van Line Express program. We also highly recommend the relocation tools offered on this real estate portal.
If you would like to personally ask me any questions or would like to set up an appointment to discuss your real estate options and about our relocation services, please do not hesitate to email us at Relocation@SVRET.com or call us at 408-833-6331
Contact Information:
Silicon Valley Real Estate Team, Owner – Don Orason
Offices Throughout Silicon Valley
South Bay:  (408) 833-6331
Peninsula:  (650) 646-5585
Fax: (408) 516-9963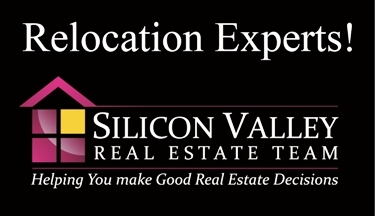 It is very important to work with a top realtor that knows the area when relocating. We can provide you with information about the the Bay Area area including homes for sale, demographics, and schooling. Simply fill out the Property Request form and we will do the work for you.
As local residents, we love Silicon Valley living, the Bay Area, Santa Clara County areas.  Let us show you what we have to offer!
As Realtors based in the the Bay Area, we provide to our clients as much objective information about a property they would like to buy or sell so that they can make informed decisions. With buying a home most likely being the most important financial decision in your life, it is crucial that you obtain timely and accurate information so that you know that you are getting the best deal possible.
We can help you find the best Moving Companies. We are a the Silicon Valley, California based relocation company ready to help you with all your moving needs. We specialize in residential and corporate relocation and moving services. Find the best Moving Companies In the Silicon Valley, CA.
If you would like to personally ask me any questions or would like to set up an appointment to discuss your real estate options and about our relocation services, please do not hesitate to email us at Relocation@SVRET.com or call us at 408-833-6331
The Silicon Valley Relocation Expert Professional Services
Corporate Relocation – Full Service Corporate Relocation – Quality Moves – Special Corporate Employee Rates
Full Service Corporate Relocation Home Sale – Quality Moves. Great Resource For HR Professionals Relocate Employees. Full Service Relocation we assist Companies in relocating Employees. Get fast and easy quotes, from several international movers.
The experts in Silicon Valley Moving & Storage. If you are relocating employees to Silicon Valley or anywhere in the Bay Area and San Jose CA, then you have come to the right place. We are THE Destination service company providing international relocation support to Silicon Valley and the entire San Francisco Bay Area .
Relocating to the Silicon Valley and the Bay Area, Moving to the Silicon Valley, Relocating to Silicon Valley, Executive Transfer to Silicon Valley, Destination services, California Concierges, Corporate Relocation Services, Corporate Transfer, Executive Relocation, Cross-Cultural Training, Relocating Families to the Silicon Valley, South Bay, San Jose, Sunnyvale, Santa Clara, Los Altos, Los Gatos, Menlo Park, Palo Alto, Campbell, Mountain View, Fremont, Milpitas
The Silicon Valley California Relocation Service
We are your Silicon Valley Relocation Real Estate experts!  We work with: Corporate Relocation Companies and Services, Investment property, High End Homes and More! Helping your clients relocate is our first priority and our service is First Class all the way! Relocation Assistance & Consultants
Relocating to Silicon Valley – Relocation Services